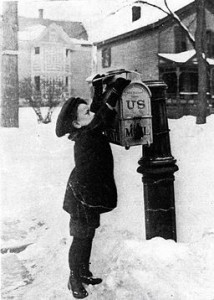 I think everybody likes to get real mail. Remember letters written on actual paper?
For awhile, it looked like letter writing was dying out, but then here came blessed email and after everyone got over complaining about computers and how they wouldn't touch one with a ten-foot pole. They got out their eleven foot poles, logged on, and merrily emailed one another.
Now we have texting, Facebook messages, and other means to connect, which are all well and good, but it's sad that the long, introspective personal letter again seems to be threatened. Often now I get as an answer to my heartfelt email some minimalist inanity of one line or less or worse, some type of code. And no, I'm not ROTFL about it.
My writing life began with writing letters. I wrote letters to friends ("How are you? I am fine.") and to relatives like my Uncle Guy, who faithfully answered. Somewhere in there I started writing letters to "the great" to ask for their autographs. A curious habit for a ten year old, but so it was.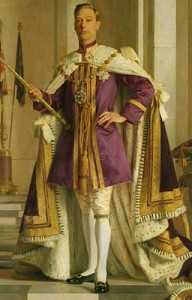 Sometime I sent a postcard to the reigning monarch of England, King George VI. "Dear King," I began, "Please put your autograph here." And I left a space for it. But I never received an answer. I wrote to President Truman; he didn't answer, but his secretary wrote to explain how the prez was too busy to give me his autograph. Ditto for England's Prime Minister, Sir Winston Churchill.
Countless others answered. Hollywood stars sent me big pictures of themselves. "Thanks for the memory," Bob Hope wrote at the bottom of his photograph.
But not the King of England! I was resentful for the rest of my childhood about that. Now I see that he was probably far too busy even to ask his secretary to write and tell me how busy he was; far too busy holding his scepter and dressing up in his purple dress. So I let it go.
Today only a few people answer my letters—even people I know and love. This has been going on now for some years. I ask a simple question: Why?
My hunch is it has nothing to do with not having enough time; nor does it have anything to do with the price of postage, outrageous as it is. A letter is a letter, so far as I'm concerned, whether handwritten and posted or typed and emailed.
My hunch is that not writing letters has to do with the Curious Culture of Correctness.
You know these people: the grammarians and punctuationalists and dictionarians who shut down when someone makes what is, in their view, a "mistake." They are in us all, more or less, and they wouldn't be caught dead making a mistake! And so… they are indeed caught dead: they do not write at all. There is a saying, attributed to either President Lincoln or Mark Twain (perhaps they shared the thought in a letter . . .): "Better to keep your mouth closed and be thought a fool than to open it and remove all doubt." This goes double when it comes to writing. A mere blush may accompany the mispronunciation of a word but a written malapropism in a letter endures forever.
I coach writers. In my seminars I ask people to write. Not go home and write but take out a sheet of paper and write right now! I hold up a sheet of blank paper. "Here's an example of bad writing," I tell them. They laugh and start writing. And they write well. They write from their hearts. They write authentically. There aren't any mistakes in the room.
So to my children and to my children's children, I say, the future of history is literally in your hands. Don't worry about being caught making a mistake. We will forgive you.
We will, won't we? Wouldn't you rather receive a letter (hard copy or by email) with "mistakes" than no letter at all?
Because if you don't write . . . if you won't answer an honest letter to you, then who do you think you are, the King of England?
~~~ APH: Life, Stories, People ~~~
Photo credits: King George VI by Sir Gerald Kelly (1879-1972) (Royal Collection object 403422) [Public domain], via Wikimedia Commons. Mailing Letters by Smithsonian Institution (originally posted to Flickr as Mailing Letters) [Public domain], via Wikimedia Commons.