When I was nine, I remember sitting with an elderly man at the edge of a pond, quietly fishing with him. There were about ten other residents of Castle Rest Nursing Home scattered along the grassy edge with a few nurses aides flitting about maintaining order.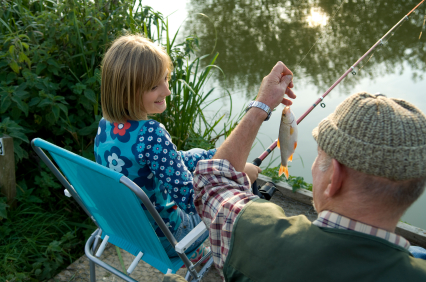 My mother, then director of nursing at Castle Rest, volunteered me for this field trip and I was happy to go. What I remember most about that day was the hubbub that ensued when, after about an hour of casting and reeling in nothing but limp bait in silence, this man started telling me the story of his wife and their life together.
I listened respectfully without interrupting as he gazed into the pond reflecting, smiling as he spoke of their first meeting, their courtship, and a lifetime filled with life and love. Slowly, his smile faded into a deep, quiet, and tearless sadness. He told me of the day of her stroke and the hope he had of her recovery and return home, "three years ago today," he said. She did not recover, and soon Castle Rest became her home for the rest of her life. He was so distraught that he stopped caring for himself and soon joined her in the nursing home. My fisherman brightened a little when he told how he discovered that after he moved in, he could spend as much time with her as he wanted—even though she'd never be the same and neither would he.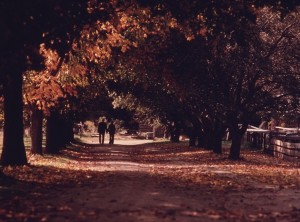 He told me about all the excursions, unnoticed, to the elevator to escape up one floor to his wife's side to just see her lovely eyes and hold her soft hands. They talked and talked, reminiscing about old times they enjoyed together. "But I would only speak to her if we were alone in her room," he said, looking straight at me, nearly knocking me off my little plastic chair with the force of the look in his eyes.
This is when I noticed the hubbub building around us.
As I sat listening, I watched his bobber pull under the water, and it seemed urgent that I tell him he caught a fish, but we were both too mesmerized by his story to care. I laughed along with him as he began to reel in that fish that kept tugging on his line.
Then I heard the yelling: "What did you do to Mr. Joe?! Why is he laughing? What's he saying? What did you do?!" Suddenly, a swarm of aides and some nimble elders tightened the circle around us making all sorts of loud remarks. All I could think of was that they should all get out of the way so he can get his fish off the hook. What was the big deal?
I was shuffled away, confused, and watched from a distance while they tended to Mr. Joe who was trying to get his fish into the bucket and no one would help him. I know how to take a fish off a line, why didn't they let me help? Soon we were all escorted back to the bus heading back to Castle Rest. Mr. Joe caught my eye across the aisle, and his eyes were silently smiling, glistening, and twinkling with some mystery he kept to himself.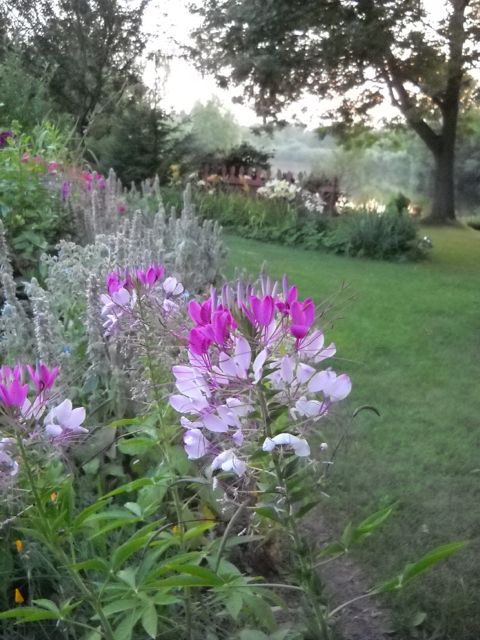 The next day, I went in to find him and ask him what happened at the fishing hole; his room was eerily clean and empty.  I learned that Mr. Joe's wife had died several days before that trip and that he joined his wife in death just hours after catching that fish. Nurses aides were still asking me what I did to him, and I had no idea what they were talking about until I  also learned that he hadn't spoken a word to anyone on the staff in the three years he lived there.
Joe had gifted me with the personal history of a beautiful life with his beloved wife. I imagined them laughing together in the garden, tending to the flowers she so loved, followed by a perfect fish dinner.
Joe's story marked my official entry into the passion called personal history, and I look forward to thanking him and his wife someday as I pass through their garden, tended with love.
~~~ APH: Life, Stories, People ~~~
Photo credits: Man and Young Girl Fishing: ©iStockphoto.com/Akirastock. Used with permission.
Elderly Couple Stroll Down a Tree-Lined Road: Use licensed via Wikimedia Commons. Photo is in public domain and was provided to Wikimedia Commons by the National Archives and Records Administration as part of a cooperation project. Public Domain.
Lakeside Garden in Albion, Indiana © D. Fran Morley, Content Editor for APH.