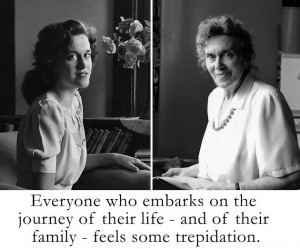 OK, I am talking right now to the main subject of a proposed family history. Not the son, not the daughter, and not the grandkids or the nieces or nephews or the friends or anybody else. This is a private conversation between me and you—the family elder, if you'll pardon the expression. So, just us. And today I am going to persuade you to record your family history. Why? Because you and your family are important to somebody—actually, many somebodies. And a lot of those somebodies love you very much. And they are very curious about what brought you and all of them to this place. A lot of those somebodies are still very young, and many of them haven't even been born yet.
Who you are, and what you have experienced along the way—and what you have learned—is very rare. You are the only true witness to the events of your life! You are also the only surviving witness to so many other important lives. Doing this—recording your story, talking about the family history—is the greatest gift to all of your special somebodies, and to all future generations. It's also a kind of immortality.
So, I know the family has been asking you to write down your history and what you remember about your parents, and their parents, and the old days. They want to hear about the family migration, the hard times, the fun times, about the days before computers, about family traditions, your dreams, your loves, your hopes. They want to know what you learned, how you coped, and your regrets. Maybe they suggested you record your story to audio, or perhaps they even suggested filming you for a video biography. Imagine!
You might be thinking that all this is a big fuss over nothing. Record the family history? Why bother? It's not like we have any presidents or Nobel prize winners.
Perhaps you are really busy right now. Retired from work doesn't mean retired from life, right? Or is the reluctance I sense more to do with the amount of work needed to pull out the old photos and the old documents. Where the heck is all that stuff anyway?
Maybe you are a bit worried about some not-so-nice parts of the story: the car accident, the run-in with the law, the (ahem) remarkably rapid gestation of the first child, a first marriage, or a little too much drinking that went on.
Please tell me that it's not vanity! I know that our voices can get weaker with age, and we aren't as pretty or as handsome as we used to be. Could it be that you feel your memory isn't all that it once was?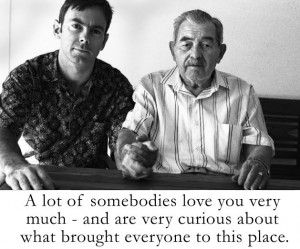 All of these feelings are completely normal, and also quite common. Everyone who embarks on the journey of their life and their family feels some trepidation. It would hardly be worthwhile if they didn't. And sure, there will be some work involved, and some hesitations to overcome. But it's very important work, for some very important people.
Close your eyes. Think about your parents. And your grandparents. And maybe your siblings and cousins. Wouldn't you have loved it if they had left more of their stories behind. What if they had written a book? What if you had them on cassette tape or even on film! Wouldn't that now be one of your most treasured possessions; the thing more than any other that represented your family essence, your family legacy? Well, that now is your obligation. That can be your gift.
So please record and tell your story, and the story of your family. Let it become that very treasure that you can imagine might—in an earlier age—have been given to you. There are so many somebodies just waiting for you to say yes.
About this 20-by-20 series:
This is the fourth in a 20-part series inspired by a New York Public Library blog post by Carmen Nigro entitled 20 Reasons Why You Should Write Your Family History. Last week, we presented "20 Reasons Why You Should Write Your Personal History: #3 You Are Important" by Jill Sarkozi. Next Thursday, we'll present "20 Reasons Why You Should Write Your Family History: #5 Family trees are abstract. Stories add depth" by APH's D. Fran Morley.
For a full list of topics and the APH members who will blog in depth about each, see our introductory post "20 Reasons Why You Should Write Your Family History: Association of Personal Historian Experts Weigh In."
To find a personal historian in your area, visit www.personalhistorians.org/tell. 
Available for purchase through the APH Store
Reality in 3 acts: video presentations that pop! with Jane Shafron
"The interesting stories in your life have become familiar to you… The novelty of these stories is most apparent to someone hearing them for the first time."
The Story of You: A Guide for Writing Your Personal Stories and Family History, John Bond
 ~APH: The Life Story People~