This article is derived from a longer article on the early years of APH written by Pat McNees for the issue of APH Perspectives.
The Association of Personal Historians can trace its beginning back to the day founder Kitty Axelson-Berry, then working on the staff of an alternate weekly press, read a press release about Denis Ledoux's workshops for turning memories into memoirs. Was this something she could do, she wondered, and when she left that job, she decided to try it. She launched her own start-up business, publishing her mother's as-told-to memoir as a sample.
The transition from being an employee to being an entrepreneur was not easy; Axelson-Berry hated the part about selling herself. Finding more than a dozen businesses similar to hers, she organized APH's first informal conference –partly as marketing and publicity and partly because she wondered what the others knew that she didn't.
APH Is Born
Twenty people came together in Amherst, Massachusetts, excited to be sharing experiences and information instead of inventing a new process and product on their own. Twelve of them started this organization, voting to be called the Association of Personal Historians.
That first year, people formed workshops and met around a round table, with everyone participating. Two therapists spoke about responsible interviewing, an attorney spoke about the legal aspects of a personal history business, and there were group discussions of business experiences, marketing strategies, subcontracting, fees, group marketing, and the pros and cons of computers, video, and print.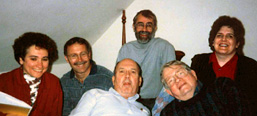 Conference breakout groups
were so small they could meet in a hotel room.
From the start, APHers have been generous about sharing the tricks of the trade. Bruce Washburn came home so excited from the third conference that he and Anne Washburn set up our first LISTSERV–and Anne continues to run it to this day.
Joyce organized the fourth conference, held in Santa Ana, California. Membership was at just under one hundred, and sixty-five people came to the conference.
With membership at just under one hundred, sixty-five people attended the fourth conference in Santa Ana, California. That year, the first APH logo and website were introduced, and the first newsletter was published.
Lettice Stuart, who joined after the conference in California, became president and helped lead APH to more national awareness. She came up with the slogan "Saving lives, one story at a time," and for T-shirts: "Let's Get Personal." She pushed reporters to write articles about APH, including a friend at The Wall Street Journal who wrote an article about APH. Then several national publications got on the bandwagon, and articles appeared in Good Housekeeping, Ladies Home Journal, the Christian Science Monitor, the Los Angeles Times, and Time magazine. Membership doubled, then tripled. By the time of the Dallas conference five years after it started, APH had 277 members. APH continued to thrive, capitalizing on a growing interest in memoirs, genealogy, and family history–and personal history began catching on.
APH has continued to thrive and will celebrate its 20th anniversary. This article will be augmented as future articles on APH's history appear in our journal. We have over 650 members active in the personal history profession.