History of APH
A brief history of APH — The Association of Personal Historians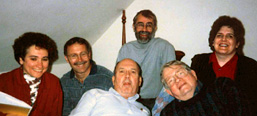 Conference breakout groups in 1995
were so small they could meet in a hotel room.
In 1994 journalist Kitty Axelson Berry launched a start-up business in memoirs and family histories, writing her mother's as-told-to memoir as a prototype. This much was clear: Baby boomers were afraid their parents from the "greatest generation," who had survived World War II, would die before their stories were told. And many boomers were ready to tell their own stories, too.
Kitty looked around and found more than a dozen businesses similar to hers, in various media. Kitty wondered what they knew that she didn't and they wondered, too. Kitty organized a conference.
Thus APH was born. Twenty story collectors met at the Lord Jeffrey Inn in Amherst, Massachusetts, in 1995, and formed the Association of Personal Historians. They were excited to be sharing experiences and information instead of trying to invent a new process and product on their own.
Catching the wave of the digital revolution
This merry band was capitalizing on a growing interest in memoirs, genealogy, and family history. We were especially interested in hearing stories and reminiscence from the living. And we firmly believed that ordinary people had as much right as celebrities and bigwigs to publish their memoirs, even if to a smaller, more personal, audience.
From the journalists, therapists, and oral historians among us, we learned principles and techniques of interviewing, recording, and archiving interviews. From screenwriters and novelists we adapted the concept of the narrative arc to the structuring of life stories. From therapists, social workers, and researchers, we learned about the value of reminiscence in aging and the sensitivities needed to work with victims of trauma. From techies of many stripes we learned about the digital processes revolutionizing book, audio, and video publication. We also invited speakers on business and legal issues.
We struggled with how to reach a potentially huge but essentially niche market. Ordinary people had heard of celebrity memoirs but not of "personal history" and often had to be persuaded that someone would want to hear their life story. At APH's third conference, video historian Audrey Galex from Atlanta agreed to head a committee on Collective Marketing: educating the public and raising awareness about the memoir movement.
In 2000, a story about APH ran in the Wall Street Journal and more stories followed – in Good Housekeeping, Ladies Home Journal, the Christian Science Monitor, and on radio and television. Personal history began catching on.
Sharing the fruits of varied experience
Newcomers to personal history work are often immigrants from another career. After more than 20 years in the film industry, eager to reinvent herself, Marion Johnson was taking classes in journalism and graphic design. At an APH conference she attended Rae Jean Sielen's workshop on book production and decided to develop a business custom printing and binding for heirloom books.
Journalist Lettice Stuart, later APH's third president, first came to an APH conference out of indignation. She thought they'd stolen her idea. "I honestly thought I had dreamed up the concept and even invented the term 'personal history.' But that conference changed my life. I would not be in business today were it not for the support, resources, ideas, energy, and wealth of information that I got there." She met Marion at the conference; Marion has been designing Lettice's books ever since.
As independent entrepreneurs, many of us one-person businesses, we attend the annual conference as an alternative to reinventing the wheel and to talk shop, problem-solve, make connections, make and see friends, share tips about new technologies and approaches, and form productive partnerships. Our first tagline captured our passion: Saving Lives, One Story at a Time.
Creating a tribe of entrepreneurs
In 1999 we incorporated as a nonprofit corporation and began developing resources to help newcomers to the field. Based in the United States, the APH "tribe" had Canadian members from the start and now has members from countries all over the world.
Most personal histories try to capture the stories, voices, images, and messages of one generation to pass on to future generations. But they are produced in many formats:
Personal history books range in style from Scrapbook-Plus (well-designed photo-histories with a story woven into the captions) to heritage editions of well-crafted, richly illustrated narratives in fine bindings.
Oral historians often present a set of audio and/or video recordings and an edited transcript, which often includes photos.
Some multimedia producers create moving memorial slide shows set to music (for tributes, funerals, and memorial services). Others, working on a more generous timeline and budget, specialize in video biographies and documentaries.
Many members participate in and lead reminiscence, life review, or memoir-writing groups—in person and online.
Some members produce quilts, posters, and other specialty items (including placemats decorated with family photos, for elders with memory problems).